By ANDREW WILKINS
2020 has been quite a ride— and it's good to see police reform as the focus of American life right now.
Here in Portland, we've seen huge crowds marking to support better policing and Black Lives Matter. But late at night, after the majority of the crowds have gone home we're seeing extreme police violence in the streets.
Local media have not been spared from that violence. Village Portland managing editor Cory Elia has been sent to the hospital twice, and he is one of many injured out there. Read more about it here.
***
It's been stressful— I've been out there too— seeing friends and non-violent protesters pushed around by the police. This incident that I clipped from my livestream is one of the most inexplicable.
The police were leaving, re-deploying, and one of the officers fired off a few less-than-lethal rounds— striking a young man in the head.
And I can't think of a reason why.
Was it just casual brutality? An accidental shooting? Were they trying to stop the march by injuring someone, knowing that medic and the crowd wouldn't leave? We'll probably never know for sure.
One development that could be making things worse: a federal prison riot squad was sent to Portland to assist Portland Police Bureau.
***
Beyond what's happening in the streets, we have also seen Mayor Ted Wheeler promise to improve Portland's police oversight system; a task force on police training, standards, and accountability from Governor Kate Brown; and a $15 million PPB budget cut passed by City Council.
***
When the world gets a little wild, sometimes I take comfort in the simple truths of cartoon animals… so with that: this latest edition of "Life in the Village".
And in case you were wondering, yes, that is Comic Sans; added strategically as hater bait.
FRIDAY, JUNE 19TH
Happy Juneteenth!
There's a lot of awesome events happening, and I hope it's a time to reflect on the ending of slavery as we struggle for a further expansion of rights: the right to policing that actually does protect and serve.
Last weekend, thanks to a generous supporter, Cory and I were able to visit Seattle's CHAZ / CHOP (Capitol Hill Autonomous Zone / Capitol Hill Occupied Protest). Along with photos and livestreams (here), we were thankful to be there for the "Black is Beautiful: Femme" a speakers forum on Saturday. Below is a video from that experience:
***
There is a march today for Juneteenth here in Portland:
***
XRAY.fm is also doing an all-day event, find that here.
Listen when you can, and even if you can't— check out their lineup. It's amazing all the Black excellence they've brought together.
***
SATURDAY, JUNE 20TH
Last year's Juneteenth festival was awesome, we had a good time volunteering. This year, the same team is taking their show online… learn more about that here.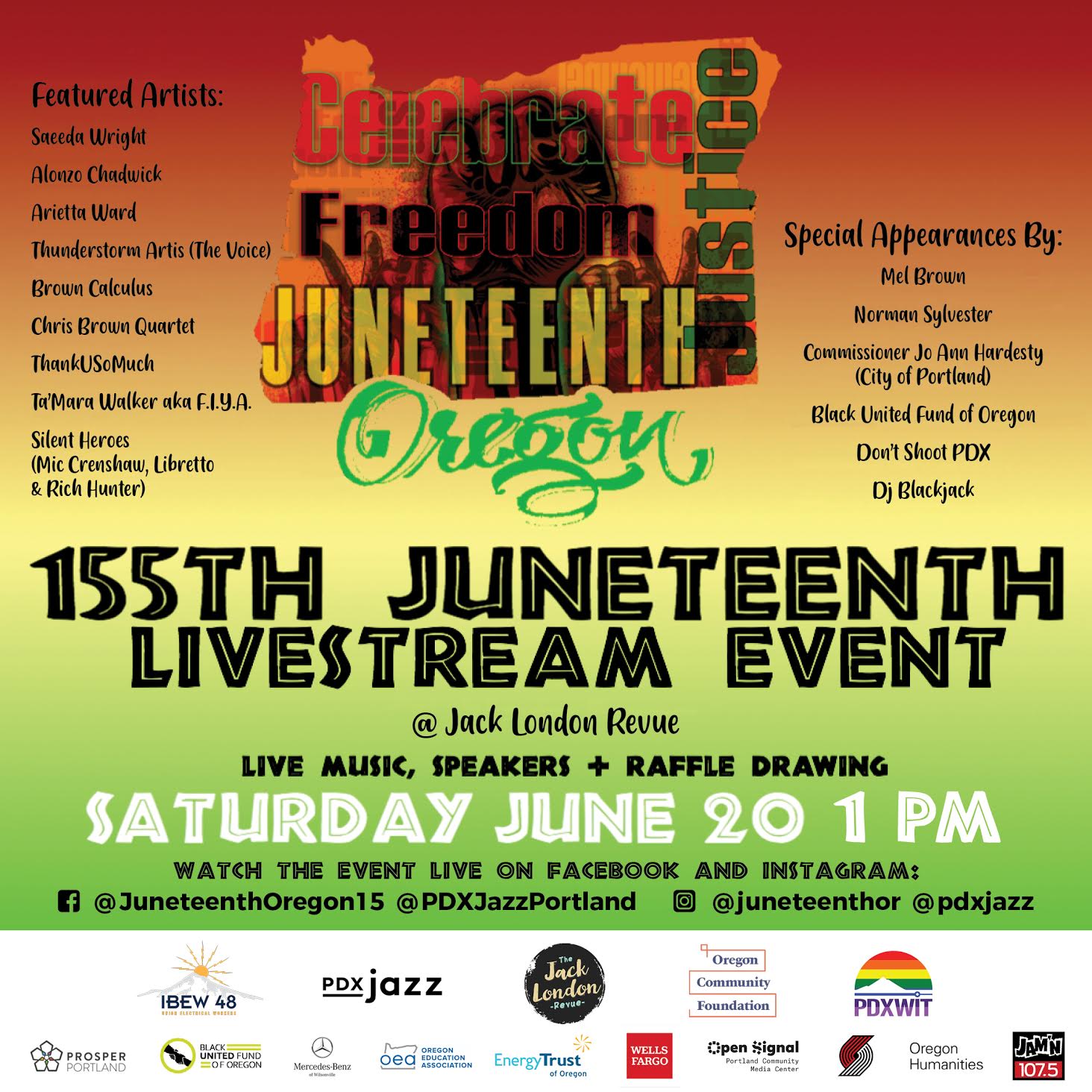 ***
Also on Saturday, 82nd Avenue's Trap Kitchen is offering free food to Black folks— sponsored by the Portland Trailblazer's CJ McCollum.
Though not officially invited to the cookout, Village Portland's collaboration with a new youth Black media collective might bring us out to support early-career Black journalists doing their thing.
3137 NE 82nd Ave * 1 pm, until the food is gone * free
SUNDAY, JUNE 21ST
Sunday is the second Lents International Farmers Market of the season!
See what's happening at the market here, including how to "double up" your SNAP benefits.
SE 92nd & Reedway, between Foster Rd & Harold St * 9 am – 2 pm
***
The Montavilla Farmers Market is every Sunday for the season.
Learn more about the market and vendors here.
7700 block of SE Stark St * 10 am – 2 pm
***
Have a great weekend!